New Committee Presentation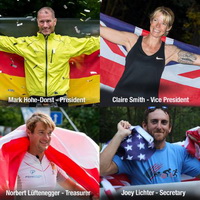 The new IUTA board comprises of the following experienced Ultra Triathletes:
Mark Hohe-Dorst - President
Multiple Double, Triple and Deca finisher / winner
Claire Smith - Vice President
Multiple Double, Quin and Deca finisher
Norbert Lüftenegger - Treasurer
Multiple Double, Triple and Quin finisher / winner
Joey Lichter - Secretary
Multiple Double, Triple and Deca finisher
The new board are working on improving and updating the following:
IUTA rules
World Cup points system
Website and communications
Communications between the IUTA and race directors
They will continue to work on:
Anti-doping control policy to ensure fairness in our sport
Raising the profile of Ultra Triathlon to encourage more athletes
Addressing issues regarding official rules and regulation at all IUTA events (before/during/after)
Bring more races and more events into the cup, especially in areas/people currently under represented
Listening to the interests of members of the International Ultra Triathlon community
Provisional IUTA Race Calendar 2019:
Florida Double USA - www.usaultratri.com - 8th March 2019
Enduroman Double and Triple, GBR - www.legendendurance-events.co.uk - 17th May 2019
Double in Emsdetten, GER - www.doubleultratriathlon.de - 15th June 2019
Double, Triple and Quintuple in Bad Blumau, AUT - www.lauffestival.com/ultratri.html - 8th July 2019
Oregon Double USA - www.usaultratri.com - 12th July 2019
Continuous Quin and Deca in York, GBR - www.decauk.co.uk - July 21st 2019
Triple in Lensahn, GER - www.triathlonlensahn.de - 26th July 2019
Quintuple Day, Deca Day and Double Deca Day in Buchs, SUI - www.swissultra.ch - August 12th 2019
Double (WC) in Panevezys, LTU - www.pantri.lt - August 29th 2019
Double Deca Continuous and Deca Day in Leon, MEX* - www.decaultratri.co.nf - October 5th 2019
Virginia Double and Triple USA - www.usaultratri.com - 10th October 2019
* It is possible that there will be more races in Mexico be part of the IUTA calendar in 2019
The 2019 World Championship:
This will be the Double held in Panevezys, Lithuania on August 29th.
---
Mark, Joey, Norbert and Claire would like to take this opportunity to thank the previous committee, Jean-Pierre Morin, Leslie Holton and Harn wei Kua for all their hard work over the previous years.
We would also like to thank the IUTA members for voting for us and we will do our very best over the next 4 years to keep growing and improving Ultra Triathlon.