Robert Karas set a new world record in Panevezys
The crowd in Panevezys saw two finishers in the men's field, who beat the 20-hours-mark and a fantastic new world record from the polish athlete Robert Karas at the Double Ultra Triathlon. In the woman's category, Alina Ranceva from Lithuania won the IUTA world championship race in an exciting battle with the current world champion at the Triple-Ultra-Distance Marie Veslestaul from Norway.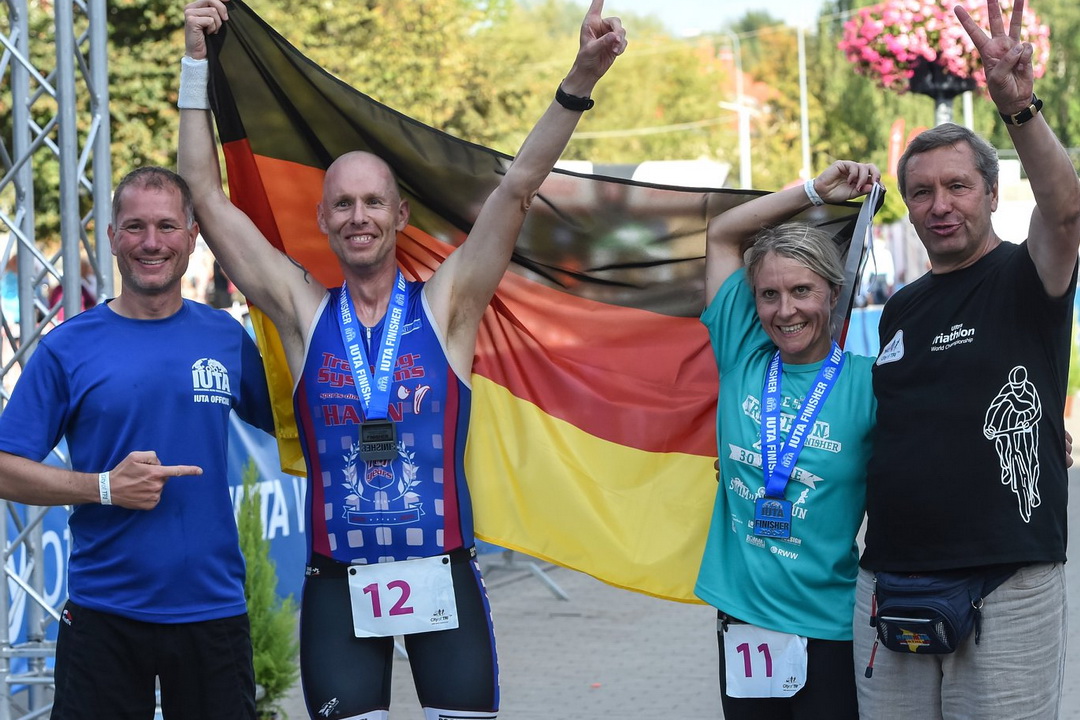 Stefan Thielen and Anke Weihermüller crossing the finish line
Text by Stefan Thielen | Photos by Gediminas Kartanas

So Panevėžys again: my second start in two years and this year the city hosted the World Championships. Unlike last year all three courses were located in the city centre this time. Combined with various cultural and sports events, a fair and concerts, the World Championship attracted thousands of spectators to the race tracks and never let the city fall asleep. The great weather conditions – sunny, warm and dry throughout all the competition – even took everything to yet another level.
For those of you who love open water events, Panevėžys is the place to be. Swimming laps of 475 meters in the inner city lake "Nevėžio senvagė" along with an Australian exit after each lap demands a lot from each athlete, and race director Laurynas Narkevičius can actually and truly claim to be in charge of the world's only race with a swim course that has elevation.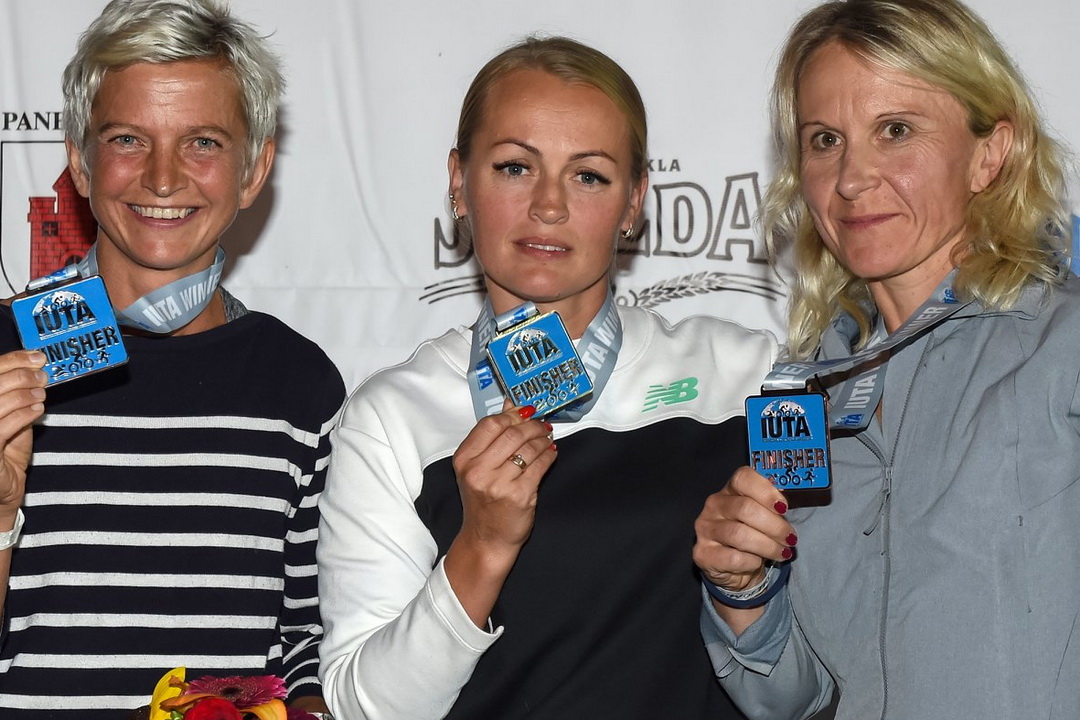 Marie Veslestaul (NOR), Alina Ranceva (LTU) and Anke Weihermüller (GER)
The 3k bike lap looked easy at first sight, but offered plenty of elevation. Athletes' watches measured roughly 2200 meters. During my 14 hour-ride I thought so many thoughts, forgot so many things, remembered so little, cursed so many, loved and hated all of those uncountable "Dawai Dawais" coming from the spectators' mouths. I experienced the constant cheering as a welcome distraction from my mental rollercoaster ride as well as from the technical problems I encountered with my saddle, which gave the magnificent technical support in the athletes' village the chance to become my personal incarnate "Dawai Dawai".
All competition long Panevėžys proved worthy of hosting a World Championship race; a sports city without flaws. Throughout my entire race time I experienced appreciation and positivity from the city and from the innumerable volunteers. For the more than 29 hours of my personal competition Panevėžys sent shivers down my spine and made me feel like a rock star. Writing this article I get goose bumps once again. And I believe that atmosphere must have also been a factor in Robert Karas' smashing the world record and lifting it to 18:44,38 h. The ladies` race turned out to be a lot closer and a bit more thrilling: local hero Alina Ranceva finished in strong 25:44,30 h and thus 26 minutes before Norwegian Marie Veslestaul.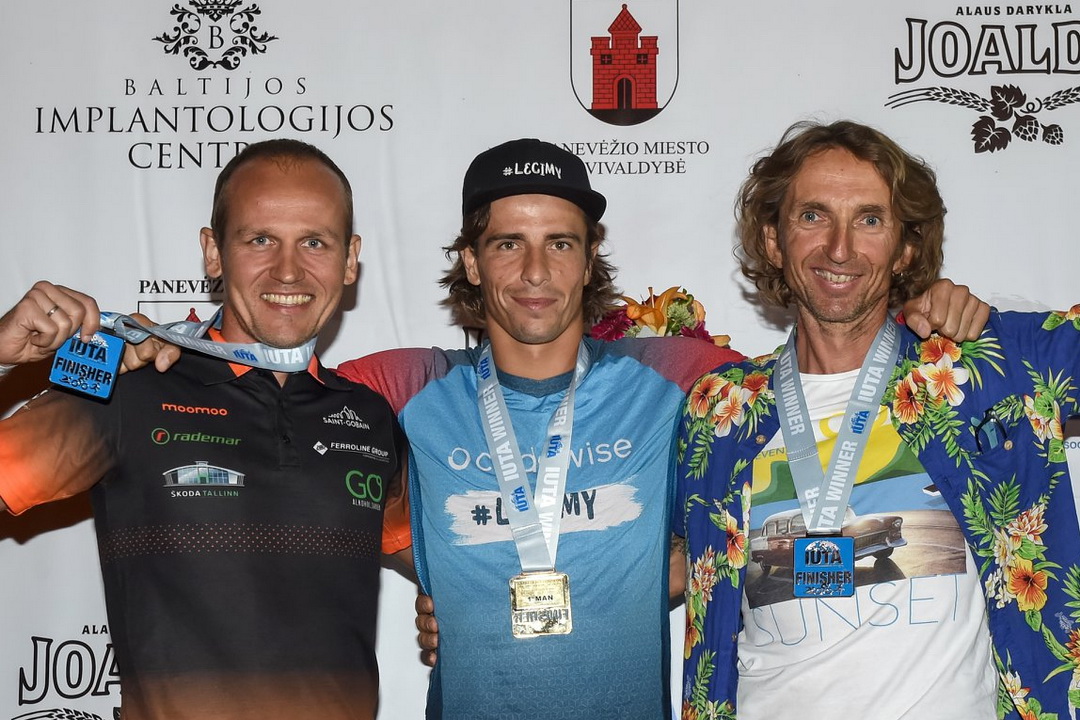 Rait Ratasepp (EST), Robert Karas (POL) and Arnaud Selukov (FRA)
But no song of praise without a verse of criticism: just like last year the after race banquet for the athletes took place way too late and could have been included better into the whole. But in retrospect that appears to be nothing but a drop in the bucket.
In including the townspeople into the competition, offering many attractions, cultural events fireworks and a stunning light show for the opening ceremony, Panevėžys succeeds in integrating a huge competition into its city limits, sets the mark for other ultra events and definitely succeeds in making me love the city and the people there even more than last year.