The likeable Norwegian Marie Veslestaul (39) won all her three races last year, became Double World Champion in Panevezys/Lithuania and IUTA World Cup winner. We talked to her about 2019 being a very successful year, not only in sporting terms.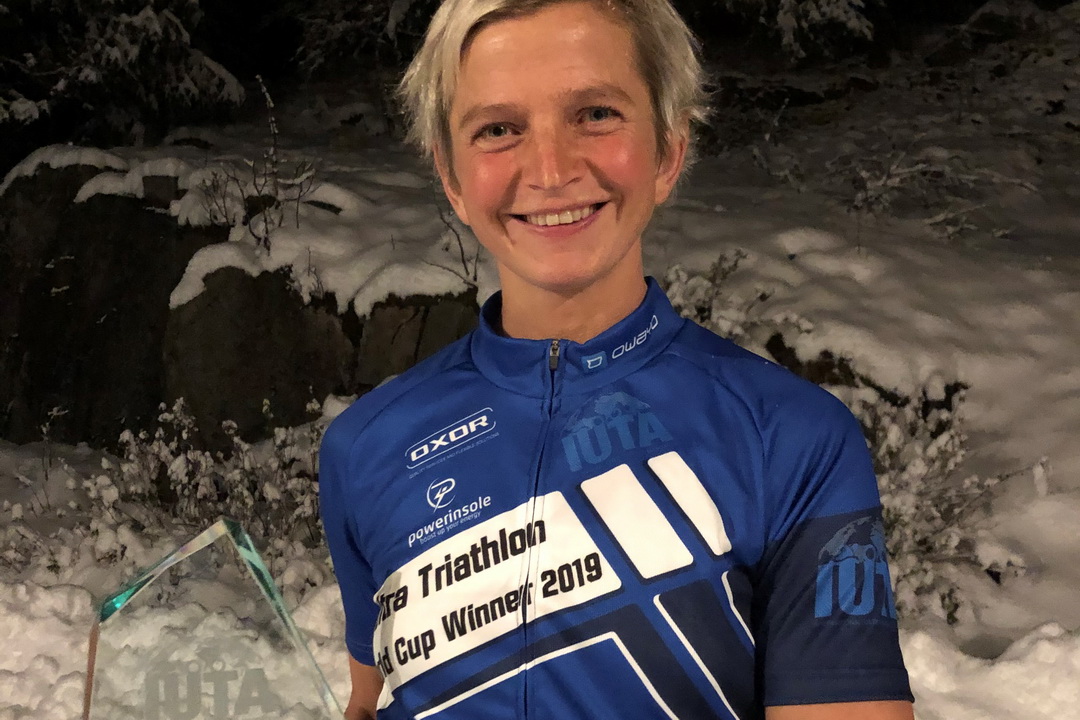 IUTA World Cup Winner 2019, Marie Veslestaul, shows her trophies.
13.11.2020 | Text by Mark Hohe-Dorst | Photo by Marie Veslestaul
Marie, you won the Ultra Triathlon World Cup. Was your annual planning based on that? How did you prepare?
My plan in 2019 was first to do the triple in Austria and then World Championship in Lithuania. But I had put some money to side – if it somehow should be any chance that I could get enough points to win the Cup. Magnus and I get married 12th of October, and after Lithuania I told Magnus that a honeymoon to Leon in Mexico was probably a perfect trip for us…

Since I was young, my place of happiness was outside – on a bike, on cross country skiing, or with running shoes in the mountain – and I preferred to be alone. I did not wear a watch to take the time, or the distance or the pulse. It was just a time of – a break from toughs, school work, work - a time for recharge. In the weekends, my parents let me be outside for hours. And it is probably still like this. I still have a great family (Magnus and Sakarias) who let me get some time off, every day to do what I really like to do (run, swim, bike, go cross country skiing) because it is good and maybe necessary for my mentally health. After some years I have learned what my body needs of training to handle the ultra-distance – so I always have a plan (in my head). But as a full time farmer the biggest problem for me is more – when to rest, because I am one of those lucky once who has plenty of hard work that fills my days.
Three victories in three races in 2019, world champion over the double long distance. What do these victories mean to you? What was the hardest race?
Victories are always fun. It motivates me. But the most important victories for me are the victories I have won over myself. So in 2019 the hardest race, and the best race all in total, was my finish at the Triple in early July. I got a flash back to Lensahn 2014, were I spent far too many hours being sad/ frustrated that my body did not want to do what I had trained it to do.
Sportingly successful and also the wedding with Magnus - would you say that 2019 was your year?
From outside 2019 can look successful! And winning in sports and a happy wedding was of course fantastic! Great memories!
But living the life as a full time farmer, teacher, and mom - who try to renovate a house, build a new house for my parents and trying to be a successful triathlete have its challenges! For me it had been to much work over time, and in the end of 2018 it knocked me down! In a couple of years I do hope I remember 2019 as my year - but for now, I remember last year, as the year I tried my best to keep my head over water!
When you think back to your first competition at the Triple in Lensahn in 2014, was your thought then rather "never again" or one day I will take on the goals "world champion" or "world cup winner"?
I knew before I crossed the finish line in Lensahn in 2014, that I had do the Triple one more time, I knew I am better. So I went back home with a "list" of things I wanted to do different, practice on different nutrition, mental training (what to think when nothing goes as planned…), different running shoes, how to work better as a team - with my supporters…
Six victories in eight races since 2014, no DNF: What was or is your strategy for all your successes over the years? What are you doing today differently than in 2014? I remember for example that you improved your finish time at the Triple from one year to the next by about 14 hours.
Most of the time, I really enjoy to be out there, on the trail with start number. I do what I love to do. (I still don't know if I like to swim… but) I really do love to go for a bike ride or a run.
I enjoy the company in the ultra-triathlon-family – you make a great atmosphere, and it inspire me to go longer. Your support has given me strength to keep it going to the finish line.
And maybe the success in the end is a result of hard work, and a quite lot of hours in running shoes or on the bike over years. Hopefully, I build a stronger body and mind (even if it goes a bit up and down) over time.
How did you get the idea to do an Ultratriathlon? What fascinates you most about these long distance races?
When I had finished 15 long distance triathlons, 24h runs, 24h bike rides, different ultra-run distances – I decided to make it longer. So the next distance on my "list" was a triple ultra-triathlon! First time I read about the Triple was back in 2006, and I thought, that is a distance I have to do!
I have always been, and I think I always will be fascinated about how the body works. How we can push it forward, how it handles stress, cold or hot weather – sun or heavy rain, different kind of food, distractions, mental ups and downs - how far can I push it forward?
What (sporting) goals do you have for the future? Maybe a Quin or Deca?
My next big goals are to do two Deca (I will need a couple of years)… The first one to learn – the second one to improve…