Andreas Wünscher changed perspectives when he and his team organized the first Ultra Triathlon in Bad Radkersburg, Austria in 2021. We talked to him about the change from athlete to organizer and about the future prospects.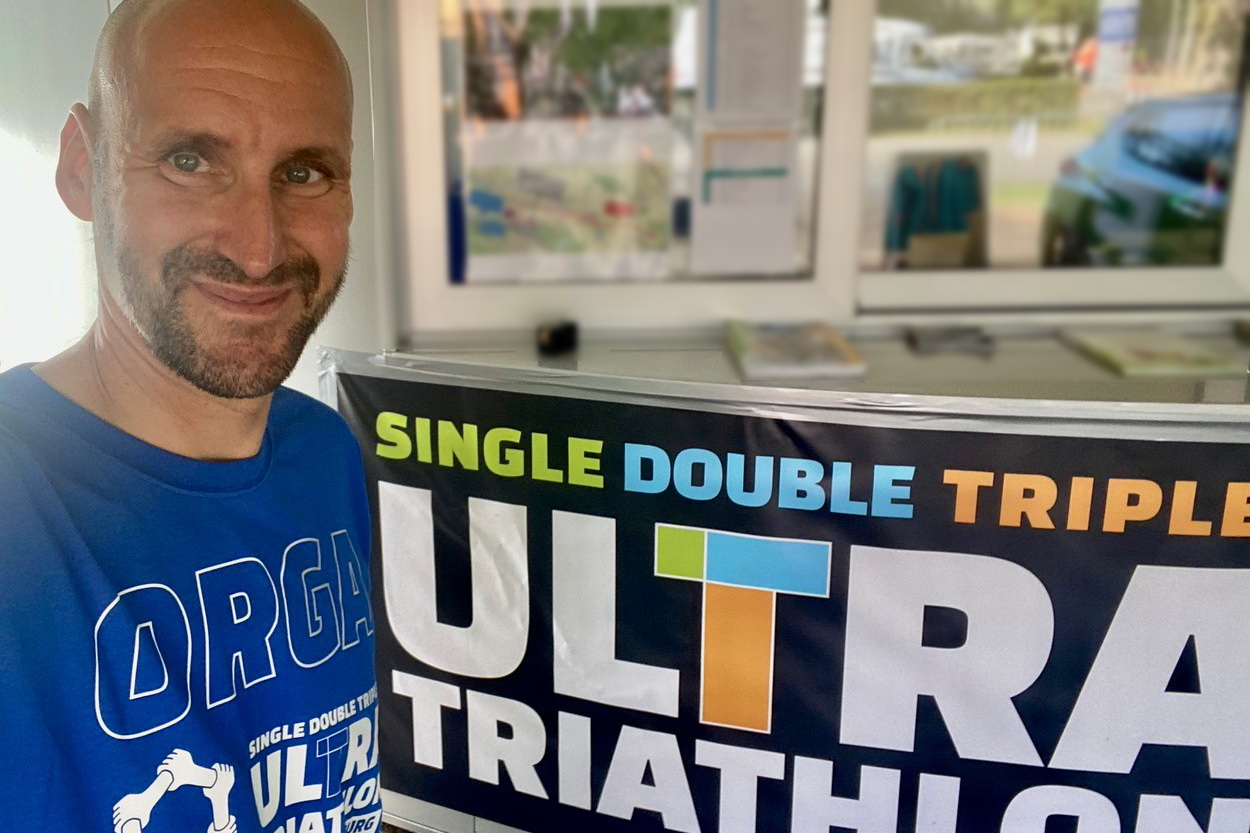 Andreas Wünscher, Organizer of the Ultra Triathlon in Bad Radkersburg.
29.01.2023 | Text by Mark Hohe-Dorst | Image by Andreas Wünscher
Andreas, the ULTRA TRIATHLON Bad Radkersburg (UTBR) is entering its third year in 2023. How did it come that you became an ultratriathlon organizer?
I have always been fascinated by everything that had to do with ultra distances. At the age of 8 I read a book about the "Race Across America" for the first time. Extraordinary endurance performances interested me very early and that's how my path led me to endurance sports, even if not primarily in the ultra area. As a triathlon journalist and active triathlete, I was able to follow the last editions of the Triple in Moosburg, even if only marginally. My first real contact with the ultra triathlon family was at the Double Ultra World Championship 2013 in Neulengbach, where my father was at the start. I accompanied him as a supporter and also shot a video of the event at the same time. I was so excited by this unique atmosphere that I decided for myself that I would like to do such a Double at least once in my life. A long time and 15 long distances later, it would finally be time in 2021. I had set the double in Bad Blumau as the last big goal of my active triathlon career and wanted to get everything out of myself. After the race in Blumau was cancelled a few weeks before the event for reasons I couldn't understand, I needed a replacement program for myself. So I asked my buddy Eduard Fuchs, who was born near Bad Radkersburg, to see if there was anything down there where I could do a double for myself. Edi is a successful ultra-cyclist himself and knows exactly what a route has to be like to appeal to the athletes' tastes. When he sent me his first suggestions, we came up with the idea of putting the whole thing on a more official basis. The idea became a plan. And we were able to implement it - even though I realized that I would not be able to be at the start myself due to my work as an organizer.
How much time passed from the idea to the implementation?
Everything happened very quickly - perhaps it had to. We took full risks, I worked 5 days and nights to get the concept and the website up and running, Edi worked on the course as my partner. The discussions with the stakeholders like the council, the tourism board and the Parktherme were short, hectic but very positive and goal oriented. The input from IUTA also made it easier for us to get started, even though we were not yet an official part of the World Cup calendar. In the end, we took the risk to start such an event from scratch within 18 weeks, in the middle of a pandemic that made almost all triathlon events impossible at that time.
Apropos pandemic - how did you manage to hold the event during this time?
There was one thing I was sure of, and that was that we would succeed in putting on a safe event despite all the possible restrictions. On the one hand, we already had experience ourselves in organizing triathlon events under Covid restrictions, on the other hand, we also have a strong national federation that had worked out a great Covid 19 prevention concept that had made triathlon possible even under the strictest lockdown conditions. At that time, I was part of the task force that developed this concept, which was directly coordinated with the ministry.
That means you as organizers cooperate with the National Triathlon Federation?
Yes, we do and that was very important to me personally. I think cooperation is the right way to go. I know that it is difficult in other countries, some federations don't want to have anything to do with ultra triathlon distances and exclude the competitions from their race calendar. I have had a very good and professional relationship with the Austrian Triathlon Federation for many years and I am happy that they are open minded. The authority matters, insurance coverage for athletes or also the doping control apparatus, all this works much better with the support of the national professional association.
How did the 2021 premiere go for you?
The event was simply great considering the short lead time. With a completely sold out starting field (40 individual starters) the DOUBLE ULTRA Triathlon Bad Radkersburg could take place at the end of August 2021. With the exception of some partly problems with the timing, which fortunately the scene did not take too badly, I think it was a very successful event and motivated us to continue.
Since 2022 you are part of the IUTA World Cup calendar. What made you decide to do this?
The values and the quality standards that you set for the organizers were decisive for us. Exactly measured courses, mandatory anti-doping controls, a well-developed set of rules and an international network are certainly the most important reasons. With all the uncontrolled growth of extreme events, we as organizers want to measure ourselves against the highest standards and offer our athletes precisely these.
2023 is the next round - what have you learned from this year and what will be new?
This year was a big challenge because we added another World Cup event, the TRIPLE ULTRA, and also offered a classic long distance event, the SINGLE ULTRA. We want to pave the way for newcomers to the world of ultra triathlon by offering them a long distance race with all the special features of ultra triathlon. Of course, this meant for us to once again turn the schedule completely upside down. An additional challenge was to find a new bike course a few weeks prior to the start, as construction work had taken place on the normal course, the completion of which was unfortunately massively delayed. But we mastered this as a team in a great way and the positive feedback of the participants encouraged us to continue this way. In terms of the route, however, we are returning to the 10.5-kilometer bike loop, because it is more beautiful (and faster) in terms of both safety and scenery. New this year will be relays in all three course lengths. Again, the goal is to bring new people into the Ultra Triathlon Family.
What do you think makes the ULTRA TRIATHLON Bad Radkersburg special?
I think if you had to invent the ideal destination for an ultra triathlon, the result would be Bad Radkersburg. A region that has great passion for cyclists, a Parktherme with a 50-meter pool and a stadium that offers everything an athlete and organizer could wish for: Space, infrastructure and an enthusiastic population. This is certainly a great advantage of our competition. Geographically we are in the heart of Europe and climatically Bad Radkersburg is the place with the most sunny hours of the year. As organizers, in addition to personal warmth and passion, professionalism is of course important to us. We are an experienced and well-coordinated team and want to offer a high-class event. We are always open to criticism and suggestions and never rest on what we have achieved as organizers. The new year starts again from scratch for us and we always have the ambition to improve even more.
The Ultra Triathlon Family often comes up in connection with our sport. What is the Ultra Triathlon Family for you?
I love the diversity of this small but beautiful scene. It's that "camping holiday feeling." You see great athletic performances, but most of the participants are deeply relaxed. They just love what they do. At the same time, there is an ever-increasing number of athletes who are new to it and want to use ultra triathlon as a sporting playground. These athletes want to be fast, break national and international records. This diversity fascinates me and shows that we don't have to worry about the future of the scene. Ultimately, however, you can break it down to the human aspect, the togetherness, which is simply unique in this scene.
Putting on an event like this requires an enormous amount of work. What do you do to motivate yourself?
The encouragement of the athletes is motivation enough for me. Of course, it's a lot of sleepless nights, not just on the race weekend itself. But every time I open social media, I see pictures, videos and posts from athletes who are preparing for our race. They are on fire for the UTBR, for some such a competition is their life's goal. To organize something that brings joy to people and gives them a goal is such a great honor for me that I would never ask myself the question of motivation.
What is your personal wish for the 2023 race?
That we can again count on a large international field of participants. The response this year was incredible. We are also very satisfied with the number of registrations so far this year. If I may make one wish - I would like to see a few more athletes from overseas. We already have some concrete ideas for this.
What are the concrete ideas?
We are planning the "Ultratriathlon with hand luggage" program. The athlete should receive everything he needs for the completion of the competition. Rental bike, bike fitting, sleeping accommodation, food, clothing, airport transfer and much more. Finally, the participant would only have to bring his pedals, cycling and running shoes, we could take care of everything else. These services can be booked as a package or individually. This is to ease possible hurdles for athletes who have a long journey.
That sounds interesting indeed. Finally, a personal question - what about your own sporting ambitions?
Somehow it is funny that the bursting of my sporting goal is the birth of such an event. For me, it's a deal that was well worth it. I think I don't have to have done an ultra triathlon myself to feel what athletes want and need. But maybe one day I will be on the start line of an ultra triathlon myself, who knows?
Thank you for the interview.
Website: www.ultratriathlon.at