Guy Declerck is not a new organizer, but rather an old acquaintance who has merely taken a longer break. He organized in 1993 with the Double Ultra Triathlon in Leuven/Belgium "a perfectly organized event", as the then participant and organizer of the Triple Ultra in Lensahn/Germany, Wolfgang Kulow, tells with sparkling eyes. His race also left a lasting impression on the Ultra legend Guy Rossi, who has been his advisor and ambassador for several months.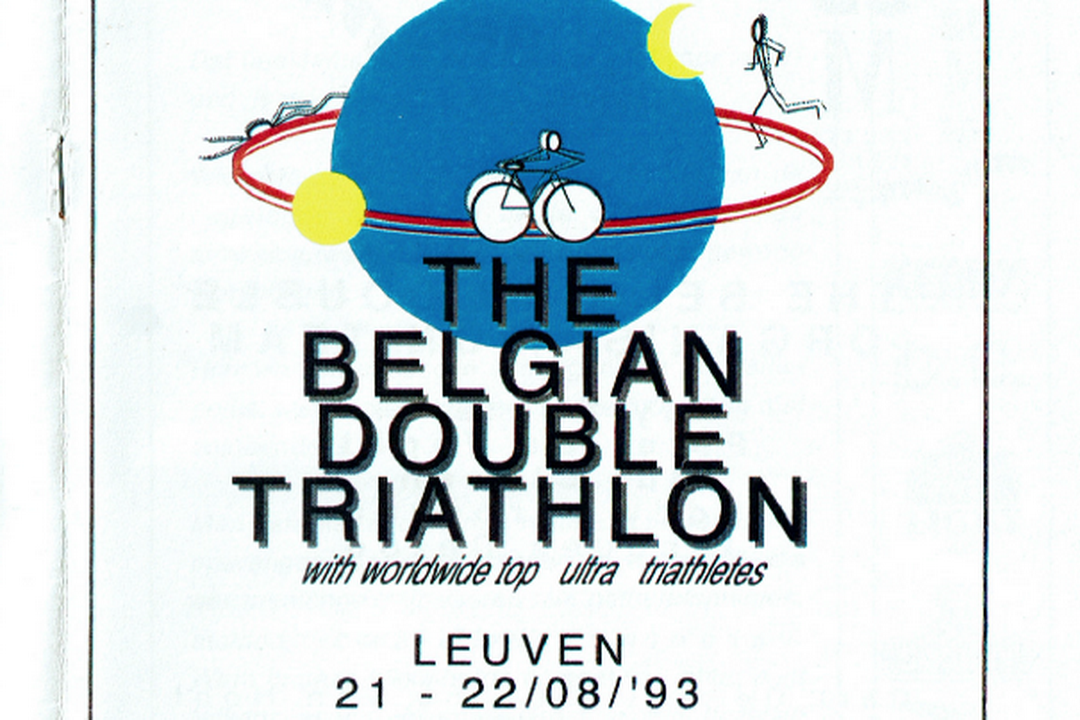 Logo from the Double Ultra Triathlon in Leuven, 1993.
19.05.2022 | Text by Mark Hohe-Dorst | Image by Guy Declerck
Guy, welcome back to the Ultra Family. What has been more important to you in the last almost 30 years than organizing an annual ultra triathlon?
Well, for one, developing my "risk analysis" ideas for events. This is something, I found, needed a new and fresh approach. This was to be a 'success' as business did grow and got me to all corners of the world. Regrettably, it also took a lot of time preventing me to continue and develop the original 1993 "Belgian Double".
What are the biggest differences in organizing events today versus organizing in the early 90s?
COMPLETELY different indeed!
For one, triathlon as a generic sport became quickly a mature and international sport. Then, the multiple versions as with all other ultra-sports grew incredibly fast due to the probably not foreseen wish of a lot of people wanting to try and dare.
The increasing awareness of "health in body & mind" ensured the worldwide development.
Further, regarding the differences, ALL the different requirements and regulations be it from laws and by-laws from Governments, local communities, sport federations & -bodies, ALL to ensure more security & safety for the participants & spectators. This also applies within the different triathlon sports-/disciplines.
Finally, if I may, the fact people wish, want and like events to relax and unstress they have become quite difficult in accepting events do require space, time and automatically also create some disturbance in regards traffic and noise, made by themself. This creates communication problems and intricate meetings with the local official organizations... BUT this is the evolution of the modern life...
Which athletes from that time do you remember particularly well?
Oh, this is easy is it not, as there were to be honest, not too many multiple-triathlon athletes at the time.
So, for sure and to start with and without any preferences, I would start with Wito de MEULDER whom I was co-managing together with his coach Laura.
He generated a lot of positive noise for the "multiple-triathlons" with his incredible pure talent but seemed somewhat fragile when push came to shove and most certainly when being confronted with somebody like Mario Huys.
This person and athlete was "on a mission" and determined to succeed in something he had set for himself. This did indeed work out breaking the world record (which cost me). Mario has then found he is there mission founding a quite successful triathlon school.
The other participants like Wolfgang Kulow, Martin Feijen or Guy Rossi were also quite focussed. Guy in fact did set an example with his commitment and drive to achieve something pretty exceptional while staying humble.
What do you expect from your event or what are your hopes for your race?
To be honest, I do not know. My real ambition is to be able to put the event on the map creating the opportunity of continuing this into the future.
However, realistically, attracting sufficient participants to offer something noteworthy to the triathlon community, worldwide.
Subsequently, and also important creating sufficient momentum for the town of HAACHT who wants to help although wishing at the same time to have an enticing event attracting their inhabitants, the public at large putting their community up-front.
What are your plans/goals for the future? Will the Ultra-Family have to wait 30 years again until the third event?
No, I start this to continue as I am in another phase of my life sporting myself more than before also.
And.. if I may dream a little, continue this experiment & trial into the future by developing a multiple-day event with different disciplines leading to a happy triathlon community attracting more participants and enlarging the IUTA-event calendar. This then, will create happy reactions from the public and Town.. and hopefully also the Belgian triathlon Federations who did not know the multiple-events, so far.