Stephan Mayer from Germany is 50 years old and has participated in Ultra Triathlon events several times. This includes six Triple UT in Lensahn and two Double UT in Emsdetten. In July 2018, he organized his private Deca Ultra Triathlon in connection with a charity campaign in favor of the Mountain rescue Oberau.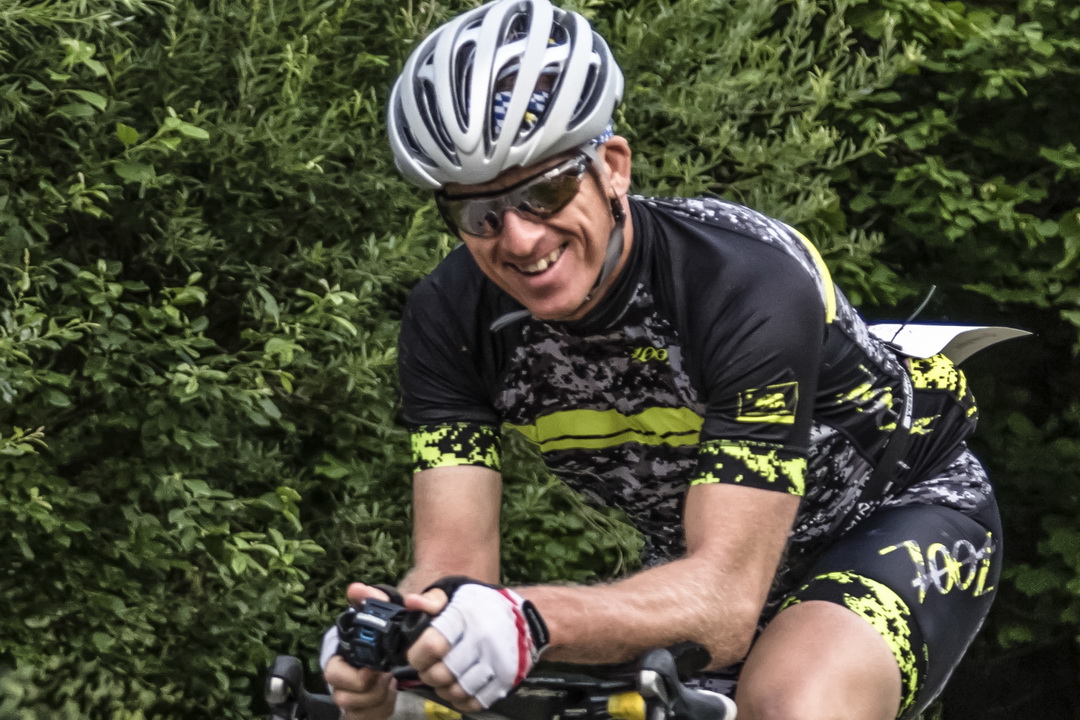 Stephan Mayer during the 1800km bike section of his private Deca Ultratriathlon Challenge.
17.06.2020 | Text by Norbert Lüftenegger | Photo by Stephan Mayer
Stephan, we know you as a very friendly, always laughing and positive person. Where do you come from and how would you describe yourself as a person?
I come from Farchant in the south of Germany and grew up in the mountains. It's close to Zugspitze, the highest mountain in Germany. By doing mountain sports i got contact to the Mountain Rescue Oberau. Doing Sport gives me always a positive attitude to real life. As doing Ultra Triathlon, my second passion, i love Mountain Sports by the same motivation: "I am doing it for my own." Just having fun and not because I have to do it.
How do you see yourself from a sporting point of view? Are you the ambitious athlete who constantly wants to improve his own performance, or do you see yourself more as a pleasure athlete who simply enjoys exercise and competing time does not matter?
I see myself more as a mixture of the two. Ambitious in the sense of "I want to arrive in the best possible time without suffering any health damage". Pleasure athletes in the sense of "I do it voluntarily and not because I have to".
What made you decide to host a private Deca Ultra Triathlon and why didn't you do it easily at one of the officially offered events?
There are several reasons for this. Firstly, the time and financial expense for overseas competitions, which is not feasible for me. Secondly, the time of the Swiss competitions, where I usually have to work, since it is in the middle of the holiday season with us.
How did you get the charity campaign? Have you reached your goal and what does the Oberau Mountain Rescue Service need the support for?
I have fully achieved my personal goal. The camaraderie within the willingness has grown significantly and the donations received are also very positive. My readiness for mountain rescue needs the financial help to procure replacement clothing for the emergency services. The on-call management also wants the comrades to come back from the missions in good health.
What difficulties did you have in organizing this personal triathlon? What did you not expect in advance and did you have supporters with you?
I received support from all sides during the planning. From providing the swimming lane for the required duration, on to electricity and water, tents, lamps and a living container for dry storage of the timekeeping and clothing. I did not expect so much spontaneous helpfulness during the preparation. The support of my mountain rescue teammates was incredible even during the Deca. There was always a helping hand on site. At any time of day or night. Without the helpers, the implementation would not have been possible.
How did your Deca go from a sporting perspective? Were you able to do everything on schedule or did you face unexpected difficulties?
For me, the Deca went very smoothly. This is largely thanks to my wife Dagmar. She took care of the organization of the helpers and the timekeeping throughout the competition. It was a great relief for my head because I could only concentrate on myself. The plan we had previously worked out also worked. 24 hours maximum for swimming, five days for cycling distance and the rest for the running route. The overall time was not decisive for me. It was important for me that I completed the Deca within the specified time limit of the IUTA and that the times, lap length and number of laps were transparent and measured. Thankfully, I didn't have unexpected difficulties to fight. Only the normal madness occurred (weather, bubbles, etc.).
What tips would you give someone who is planning a Deca Ultra Triathlon for the first time? What should be considered in the preparation?
From an organizer's perspective:
Take a year to prepare and plan the competition like a project in the world of work.
Make sure you have enough helpers, take care of you in the competition and do not "burn up". This is the only way the mood in the coaching team will be good and you as an athlete will always get the mood as a positive input. When carrying it out, you need a person in charge who brings the threads together.
Everything has to be transparent for charity campaigns. For example, the routes are also officially measured and documented in a measurement report.
From an athlete's perspective:
Take enough time for training but also for regeneration between training times. It is important to me personally not only to keep the fun in competition, but also in training. Therefore I have e.g. I put my endurance training on the skating skis for a change in winter or I often went up into the mountains on a mountain bike. Find a good and fun support team that you can rely on unconditionally in the competition. They are also the ones who make the decisions for you in an emergency. But then stick to it, you have the "more neutral" view. If you say that is still possible, it will almost certainly still work. Exactly when you tell yourself it's over now, you're destroying yourself sustainably. In my view, there can be nothing in the way of success.