Rait Ratasepp, born in 1983, is an exceptional athlete from Estonia. In the last few years Rait has finished in the Top 10 of the IUTA-Worldcup-Challenge. In Emsdetten 2019 Rait broke the very strong Double Ultra Triathlon World Record from Robert Karas and finished the race in 19:42:57 hrs! Congrats! Rait enjoys a very high reputation even far over the Estonian border. Read more in our interview with this very popular athlete.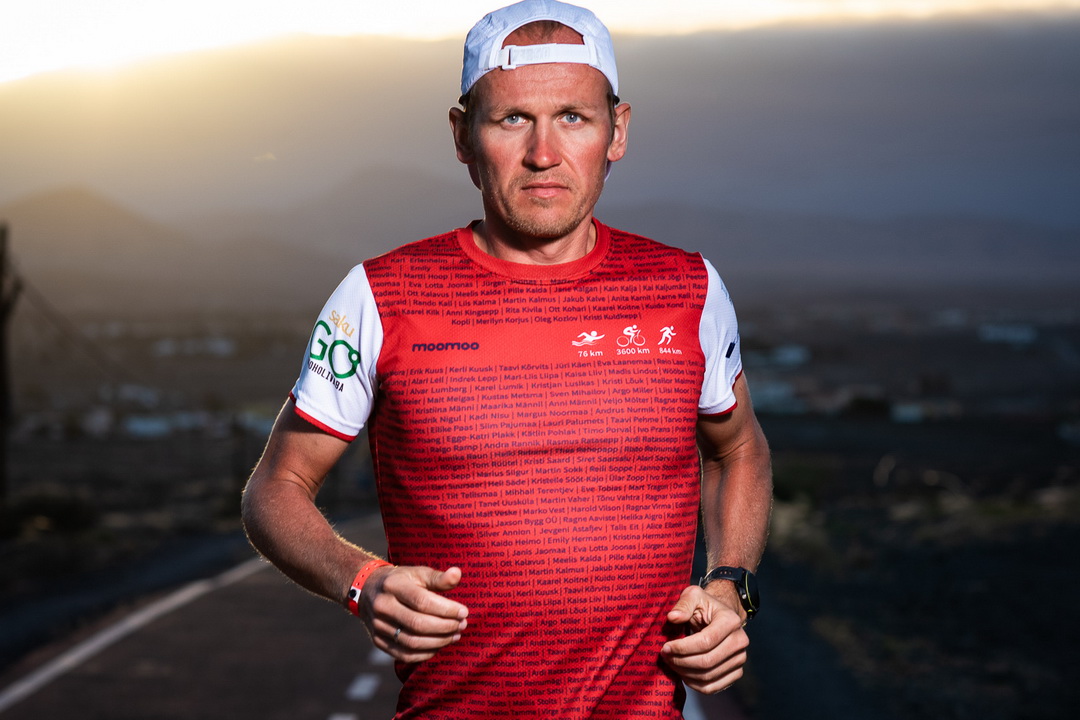 07.07.2019 | Text by Norbert Lüftenegger | Photos by Rait Ratasepp
Rait, can you make a short summary of your sports career? How long have you practiced triathlon? How was your progression in triathlon? Other than triathlon, what sports did you play originally?
Until 15 years of age, I didn't do any sport at all. In childhood I had no role models for sports – i.e. none of my family practiced any sport. And they still don't. I am the only one in my family who likes to do sports. I started to do sports on my own initiative and I worked myself up.
My first sport was boxing for which I practiced for 5 years. Boxing requires a lot of stamina and strength, so I had to include running and gym workouts in my training. Running slowly became my favorite activities. At the age of 19 I participated in the first race (23 km run) and I really liked to compete with others. A year later I tried triathlon for the first time (sprint distance) – I didn't like it at all. I could not swim correctly, I didn't have proper equipment and the lack of knowledge and preparation made my first experience unpleasant. So, I left the triathlon for 8 years and focused only on running. I got back to triathlon in 2010 when a triathlon club was opened in my hometown and I joined it. The ultimate goal then was to finish a full-length (i.e. Ironman) triathlon. After doing the full triathlon twice (2012 and 2013), I heard the double ultra-triathlon race for the first time. So, I decided to try it.
My first double ultra-triathlon took place in Hungary in 2014. I won this race with time 22:17:56. During this race, I got to know that double is just the first level of ultra-triathlon. That's where it all started. The following year, I improved my time 45 minutes (21:32:55). Next time correction for double distance came in Emsdetten in 2017 (20:14:25). Above all, I have improved my time through better cycling. The running has been my strength since the beginning – already in Hungary I run 84.4 km under 7 hours.
Here are also some of my training numbers for the last few years to get an idea of how much effort I've seen for the current results.
2016
1042 hours of training;
869 km swimming;
12211 km cycling;
4007 km running;
many hours of body strength workouts.
2017
1040 hours of training;
786 km swimming;
10787 km cycling;
4176 km running;
many hours of body strength workouts.
2018
1195 hours of training;
904 km swimming;
12975 km cycling;
5672 km running;
many hours of body strength workouts.
2019
This year (because of my self-organized challenge – 40 long-distance triathlon in 40 consecutive days) I will probably practice 1300-1350 hours of swim bike and run. Running and cycling mileage should make a noticeable leap – for example, this year I have already run 4476 kilometers.
It is important to know that mileage is not the most important figure of ultrasport. The key element is hard trainings. The mileage is just a cooccurrence - you need to do many lighter workouts to recover from each hard workout. The more I do the hard workouts, the more I will need do the easier trainings to recover. And so the mileage gets big.
You are a very successful athlete. What was your most outstanding performance as a sportsman and for you personally? Which project is/was most important for you?
Every ultra-triathlon I follow one important principle for me. So far I have been able to accomplish this. Namely, I have been able always to run the running part of ultra-triathlon races. For me the triathlon means literally swim, bike and run - I know how hard the last discipline can be and if I can run despite all those difficulties, only then the satisfaction and emotions are the greatest. So far, the hardest competition (and therefore the most important) have been deca continues ultra-triathlon in Switzerland (2017), where 38 km swimming became a nightmare because of hypothermia. Nevertheless, I was able to recover from this during 1800 km of cycling and managed to run 422 km without ever walking.
At the race in Emsdetten this year, when did you realize that the double world record could be possible for you? How was your perception and what did you feel in the last few laps at the run course?
First, I always think that if one of us has done something incredible, it can be repeated or done better. Often it is very much in our heads. A good example from past is Roger Bannister, who first defeated a 4-minute limit in a 1-mile run race. Before that, it was thought for a very long time that it is impossible for the human body. Just a few months after Roger, it was done again. Today, about one and a half thousand men have run under 4 minutes. So, it also worked for me because I had seen with my own eyes how Robert set the record in 2017.

The records are for breaking and my record is not an exception. I'm sure that soon someone will make it even faster. After Emsdetten race I know that even less than 19 hours can be done. This requires a very fast cycle track and good weather conditions. Although Emsdetten's bike track is flat and of excellent quality, there are couple turns where you need to slow down a bit. In addition, 82 U-turns must be made, where the speed is reduced to zero. This time the weather had a noticeable impact on cycling time as well – namely, about half of the distance the weather was windless, but then it got very windy. But, as they say, the weather is the fourth discipline of the ultra-triathlon.

Being more specific, before the start my goal was to do it under 20 hours. At the same time, I believed that the world record can be achieved if I can swim and cycle in 13 hours. When I started running, I saw the clock and it showed that 13 hours have passed since the start. Everything went well up to half of the run, when I had some problems with food intake. It affected my spirit and I decided not to focus on the record. I decided to watch the clock when there are 3 rounds left and then if there is still a chance to break the record, I put everything out.

7 laps (10 km) before the end, I somehow notice the clock and realized that the fastest time is possible. I raised the pace and the rest you already know.

Overflowing emotions arrived when I crossed the finish line. The last laps I deliberately kept my thoughts concentrated and away from celebrating. I have read about it and have seen with my own eyes that the body may shut down just before the finish line if you start celebrating on your head too early thereby giving the brain the wrong signal.
You have married your lovely wife recently and she supports you with your son mostly of your trips. How much time do you train for your achievements and how can you arrange it with family and job?
Yes, we have a 2 years and 7 months-old son. Although my training volume is comparable to a professional athlete, I spend a lot of time with my family. I can probably spend more time with my child than a parent who goes to work from 8 AM to 5 PM. While my wife is at work and a child in kindergarten, I'm doing my training. I usually do the workouts one after the other, without a break. With this, I save time and train the transition from one discipline to another. By changing disciplines, I also teach my body to recover with movement.
One example of my training day: I started my day with 11 km run. Right after the run I had 4.4 km swim. Then right after swim I had another run (13 km). And finally, I cycled 1,5 hours.

There is one more thing that saves our family a lot of free time - we don't have a TV at home.
Do you have a favourite training session?
I like to follow one principle – split the distance. I discovered this method for myself, and that is one of the main key elements to what I've achieved so far. What does it mean? To run 84.4 km in 6.6 hours, you must run long runs as well. Under long runs I mean 60 – 70 km a day. When you run 70 km in a row, it will most likely leave a mark on your muscles for several days. It is also likely that you will not be able to maintain the same speed throughout the run. That's why I divide that distance into three or four and run it with a little pause.
One example of my training – 64.1 km a day I ran as follows: I started with 16.4 km run, then after an hour's break I ran 15.4 km. Then again, a small break and 20.3 km run. Once again, a little break and finally I ran 12 km. When recovery gets better, the less time I give to the body to rest and the longer I run at one session. For example, four days later I ran the same distance in three runs (21.7 km + 25.9 km + 16.3 km).
As an ultratriathlete we know about having mental breakdowns during the race, which grows doubt about doing the right things. How do you find the good way out of these mental holes during races or training?
During each ultra-triathlon race I experience several ups and downs. When I have difficult moment during the race:
I try not to stop - if necessary, I slow down the pace, but stopping increases the possibility of quitting;
I change the food in my menu – eating another favorite food improves my feeling instantly. That's why I keep my menu very wide and don't use everything at once;
I think about other competitors - they also have a hard time and if someone besides me is still on track and able to move, then I must be able to continue as well;
I say to myself (even loudly :)) that "Rait, you are here for your free will and you paid a lot of money for it, so now do not complain";
I think of my family, as well as being my son´s role model;
I always have multiple goals in competitions, but the minimum goal is always to finish. So, if things don't go as planned, I'll focus on crossing the finish line;
I always keep my thoughts on the distances that I have done. I avoid thinking about how much more is to go.
Here are couple methods that I practice in training. Firstly, I run a lot on treadmill and cycle indoor. These are a good ways for me to train my mental strength. Secondly, during my trainings, I do not listen to music or use other entertainment - it teaches me to control my thoughts and to cope better with them in difficult moments.
Do you had a key event in your lifetime which brought you to this point you are being now? Or were all steps at your career long time planned?
It may be said that the breaking point was 2013 when I decided to quit my day job at law firm and give my hobby (sport) a chance. Only a very few people understood my decision to quit the job. Being a lawyer is a prestigious occupation. I had the best working conditions and colleagues I could wish for, as well a good salary. Giving it all up seemed crazy to many but I didn't let the opinion of others influence my decision. And here I am today.
You have planned a private Quadruple Deca Ultratriathlon this year in Fuerteventura. 40 Ultratriathlons in 40 consecutive days. Whats your motivation for this gorgeous adventure?
My this year's challenge, 40-times ultra-triathlon is one step forward of my previous self-organized challenges. Last autumn I did there (on Fuerteventura) double deca ultra-triathlon and now I need to move forward to see how far I can push my physical and mental state. Why Fuerteventura? In my opinion, the conditions there are one of the most difficult. Hot weather, strong winds and hard landscape. For instance, last year during my 20-times ultra-triathlon I had to take 2280 m elevation every day with my bike and 434 m during the marathon run. The hottest weather was 37 C (at the start of run) and the "coldest" 28 C.
I am doing all this to experience the powerful emotion that comes when I overcome new challenge. By repeating the same things, I find it difficult to experience such powerful emotions as conquer the new challenges.
I have several goals with 40-times ultra-triathlon. The most important one is to finish the challenge and never walk during the run. At the same time, my other goals are:
finish each day under 12 hours;
end the entire challenge under 480 hours;
run a marathon each day under 4 hours.
Before 28th September (the start of 40-times ultra-triathlon) I take part in a Quintuple ultra-triathlon in Austria. When the weather favors and everything goes without major setbacks, then I hope to finish that race under 72 hours.
Ultratriathlon is a small part of the Triathlon World and not nearly as popular as the World Championship Ironman in Hawaii. Ultratriathlon is a very expensive sport because of the worldwide trips and also long events. Most Ultratriathletes don't have any sponsors and have to finance the fun from their own pocket. It seems that you have a good bunch of sponsors and supporters. If you don't mind sharing the secrets, how did you get sponsors and do you have a suggestion for other athletes to find more backing?
Finding (monetary) supporters is not easy at all. I have spent a lot of time on this – time I could have spent focused on training. I don't have any specific marketing knowledge, but luckily my wife works in the field of communication. Thanks to her, I have been able to find so many sponsors today. Here are some thoughts that have brought me success in finding supporters:
You have to be constantly in the picture! Let's start from ultra-triathlon races – it must be interesting to follow the races. Tracking the live results does not make it interesting at all. You must consistently provide immediate information about yourself and other competitors - illustrating it with photos and videos. Just as the race offers us powerful emotions, the followers want to experience them too. That's why you should always share with your followers how you cross the finish line.
Outside competitions I keep myself in the picture by writing in detail and openly about my preparations for races. People are interested in how I do it. In my blog I write about my workouts (publishing my training plans), recovery, blood tests, nutrition, mental aspects, pulses in training and competitions, etc. Since ultra-triathlon essentially covers all aspects of our lives (including sleeping, nutrition, recovery, family life etc.) and because these numbers are insane, they are also interesting to be read by a non-sporty person. I always try to write so that the reader can find something useful or interesting about ultra-sports.
The more people following your doings, the more interest the media will have in you. If you cross a certain critical limit, you suddenly learn that it is much easier to find supporters. How to generate interest? I have benefited a lot from being the first Estonian to successfully finish the ultra-triathlon competition. Estonia is a small nation, and if someone does this for the first time, it gets a lot of attention. I believe that my big breakthrough was when I organized myself a challenge (Quintuple ultra-triathlon) in Estonia in 2016 - by doing it alone, in my home country and communicating it in my social media channels and through local media.
Today, I benefit from the fact that I am competing on world level, with the best of the world and with the top positions. But not only that. Perhaps more important is that, I always take on new challenges. I've been moving step by step – quintuple and deca (day by day) 2016, deca continuous 2017, double deca (day by day) 2018 and quadruple deca this autumn.
I have two types of supporters. Those who are interested in sports and triathlon and just want to support to see what is possible and how far is possible. These people and companies are worth looking for in the start lists or finish protocols of triathlon or other (run) races. Doing so, I have found one of my main sponsors today.
The second type of supporters are those who are interested in collaboration and who want to advertise their product or brand, including value-based advertising. In terms of value-based advertising, I mean that well-known companies/brands want to be part of my doings because it is of interest to many. These brands are familiar to everyone and they don't need promotional advertising from me.
Both types of supporters must be kept in the picture. The easiest way to do this is through the clothes. Every year, I get new clothes where my main sponsors can be seen. Those supporters who provide me the race and training gear, want advertising through the use of products. Again, it can be done through photos and videos via social media. Therefore, it is important to use professionally-made pictures if possible.
In addition to supporters (companies), a significant part of my budget is currently crowdfunding. That means my annual main challenge has been funded by my fans through my website (www.raitratasepp.ee). For instance, with the help of my fans I got the Swiss deca continues ultra-triathlon costs (approx. 10 000 euros) covered in 2017 and the Fuerteventura double deca ultra-triathlon costs (17 400 euros) in 2018.
What matters here is that the crowdfunding works well during the challenge and depends very much on how well I pass it on social media and national media. It's like selling tickets for the show.
My this year main challenge (40-times ultra-triathlon) costs are 35 300 euros.
In the autumn I will see how I do this time.
If you are thinking about Rait Ratasepp in 20 years. What do you wish for yourself for lifetime in future?
I do this (i.e. practicing ultra-sports) because I truly believe that it will give me vitality in old age. The best feeling in the world is to be on good physical shape and to be viable. We have good proof of this - many people of very high age are taking part in ultra-triathlon races. For me it is enough to be sure that if they can, it will be possible for me and others.

Thanks a lot for the very interesting interview. We wish you all the best for your experiences in the future.
See you soon.