Guy Rossi, born in 1948, competed in the last of a total of 114 ultra triathlons in 2018. In more than 30 years of ultratriathlon he finished 53 Double, 19 Triple, 10 Deca UT in continuous format and some more races. He spoke with us about the beginnings of ultra triathlon, the development of our sport and how he spends his "free time" now.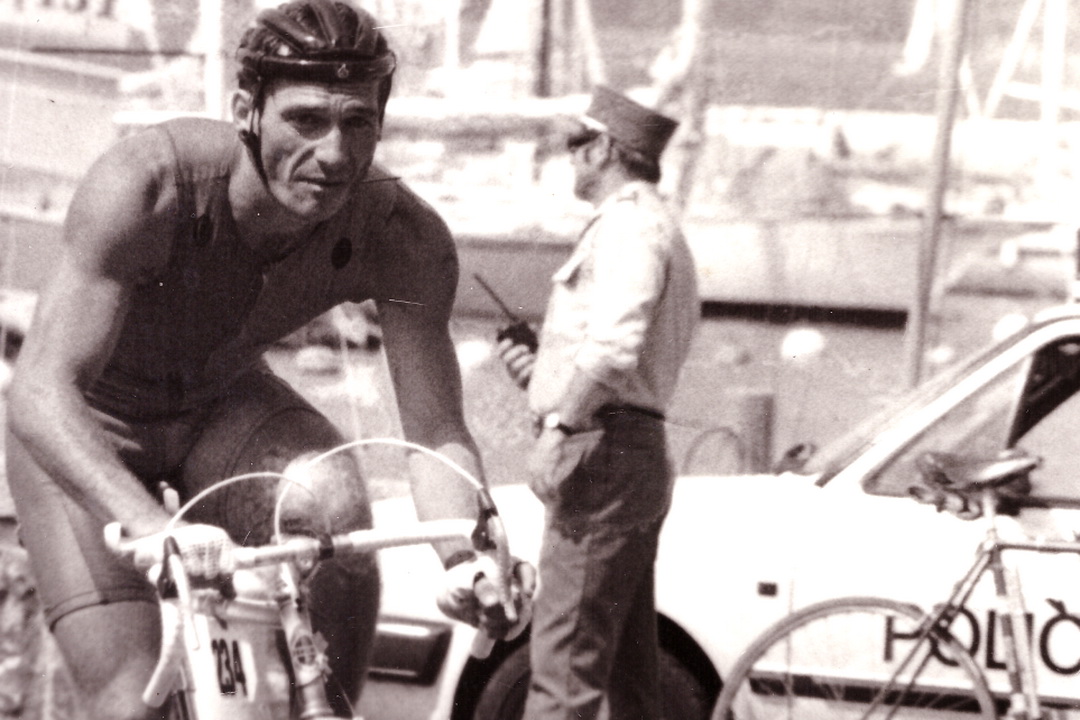 Guy Rossi at his first triathlon in Geneva/Switzerland, 1985.
08.03.2020 | Text by Richard Jung & Mark Hohe-Dorst | Photo by Guy Rossi
You stopped doing ultra triathlons last year after more than 30 years. Do you miss it? What are you doing with all those free time now?
Do I miss everything I have done in 34 years of active triathlon? No, luckily there is not only that in my life. I feel neither lack nor nostalgia. There is so much to do in life and time passes so quickly! I have three children and five grandchildren, so I have enough activities ;-)! I still receive many requests from athletes (triathletes as well as others) for advice (regarding training and other things ...), and I always take the time to answer the requests. A journalist writes a book about me ... Even without competitions I don't have time to get angry or to lie lazily in an armchair without doing anything ;-)!
You are from Colmar in France. There living many other ultra triathletes like Emmanuel Conraux, Fabrice Lucas or Laurent Quignette. Why? Is there a triathlon club that promotes "crazy" athletes in particular?
Together with motivated athletes I founded the TAC Colmar (Triathlon Alsace Club Colmar) in 1986. I was the first president of this club and with my friends I tried to develop the Ultratriathlon further and to give this sport a positive image. The Ultratriathlon was very quickly accepted by the city authorities of Colmar and so all Ultratriathlons of the city could live out their passion easily.
I believe that I have done a lot to promote this sport in Colmar by organizing several Ultratriathlon events, the first of which was a Quintuple in 1988 (the first in the world). Also in 1989 we organized a Quintuple as private experiment again and in 1990, 91 and 92 three Double-Ultratriathlons in which the best Ultratriathletes of that time from all over the world took part.
Due to my 32 years in Ultratriathlons, the results I have achieved in numerous countries and reported on in newspapers and television, I have sensitized several generations of triathletes in Colmar. They have heard about Ultra Triathlon for over three decades and got the desire to try this discipline. Many young as well as less young athletes have contacted me to say "I would love to be able to do that". This is perhaps the reason why Colmar is the city with the highest concentration of - in your words - "crazy" athletes in the world!
When and where did you compete in your first ultra triathlon and what did you do before?
In 1988, a very eventful year for me personally, I took part for the first time in an Ultratriathlon as part of the first Fontanil Triple. Then I organized the first Quintuple in Colmar in June and participated in the 4th edition of the Double in Huntsville in September.
Before that, in 1987 in Colmar, I had already taken part in a challenging Ultratriathlon, which was not a multiple of an Ultratriathlon, but a 24-hour race with eight hours swimming, eight hours cycling and eight hours running. I had heard of this format from an athlete I had met in 1986 at Snow Pentathlon. To my astonishment these 24 hours were a huge media success.
From 1985 to 1988 I had taken part in several different triathlons, over the Olympic distance, middle distance and long distance and I had the feeling that the longer the distances were, the more I enjoyed the competition. I also took part in other types of combined competitions, such as winter pentathlon (touring skiing, alpine skiing, cross-country skiing, cycling and running), which finally convinced me that I liked competing in long and varied competitions.
In my youth, before practicing triathlon, I was a volleyball player at national (in Marseille) and international level at university and in the military. I have also practiced tennis and cross-country skiing at a good level. Maybe that explains my stamina.
How did you hear about ultra triathlons in the late 80's? There was no internet at that time.
At the end of 1987 I read an article in the magazine "Triathlet" about the Double in Huntsville in Alabama, the world's first Ultratriathlon event and I realized that it was this kind of challenge that interested me. I intended to organize a quintuple in Colmar in May 1988, when I learned again through the magazine Triathlet that the city of Fontanil was about to organize a Triple in May 1988. I did not hesitate and registered. These were my first experiences.
There was no internet yet, but there were magazines, TV, telephone and fax and that was great. So it was no longer the age when you lit the fire with a flint stone. ;-)!
Do you remember how you felt when you successfully completed your first ultra triathlon?
Yes, I remember it very well. It was a lot of fun to share long efforts with other triathletes of all nationalities and to get to know and appreciate them better. Sport has always been a wonderful way for me to communicate. Even if you don't speak the same language, the commonality of effort, a gesture of encouragement or a smile is understood by everyone.
The length of the competition brings us together, sharing the same efforts without losing courage, while at the same time maintaining the desire to achieve the best result. This is difficult for competition formats that are too short and in which too many athletes participate. In Ultratriathlons we help each other a lot (in terms of equipment, food, team members...). Mutual support is one of the important characteristics of this sport.
The "Triple" premiered in 1988 in Fontanil, France. How was it to be a part of it? How was your race?
Of course, after the Double in Huntsville, some people imagined that they wanted to do one more long distance in an official race and I wanted to take part immediately.
My race went very well, with a great race to catch up on the running track and I finished 3rd in the overall ranking. During the first three editions I was on the third place, but there were never the same Ultratriathletes on the places before me.
I came with a team of friends who really enjoyed this race. They then helped me organize a brand new challenge, the Quintuple in Colmar. I suggested to other triathletes I met in Fontanil to do the same, each in his own country in his own hometown, but in the end it didn't work out. So I completed the first Quintuple alone on June 22, 1988. In 1989, I repeated this to get below the 100 hour mark, which I did thanks to exceptional teammates and the great support of the Colmar community.
How big was the step from a "Double" to a "Triple" for you?
I didn't start with the Double so for me it was rather the step from Triple to Quintuple and from Quintuple to Double! I think if you're well trained, the step from Double to Triple is easy. Also from Quintuple to Deca.
Personally, I never wanted to go beyond the Deca to avoid bad physical surprises at the end of the competition. It was important for me to be able to participate in the next one after each competition. Some have paid dearly to take part in competitions beyond the Deca. I congratulate all those who finished competitions beyond the Deca without injuring themselves.
Again as a pioneer you was one of about 20 athletes 1992 in Monterrey, Mexico for the first edition of the Deca Ultra Triathlon. How was your race? What was the difference to the "Doubles" and "Triples" you had finished already?
My first Deca was a great experience that was hard on everyone, including my teammates. This competition was a great moment of sharing and friendship between triathletes and teammates.
For me, the difference between different distances is just a question of the right balance of power. Whether Double, Triple, Quintuple or Deca, it is necessary to have several important parameters under control, especially speed, recovery and nutrition, as well as personal tactics for the Deca.
Why didn't you stop participating in ultra triathlons in 1992? You have successfully completed several Double, Triple and Deca Ultratriathlons. There was nothing more. What were your goals? What motivated you?
Why stop in 1992 when you are young (44 years) and in top form? As long as I enjoyed the competitions without injuring myself and still achieved good results, I naturally continued and never lost the desire to improve myself.
As I got older, I continued to have the ambition to do well in my age group, always with the same goal of enjoying it and not hurting myself.
At the age of 70, the amount of training needed to finish a competition in good condition became too much, so I stopped without regret and without looking back wistfully. Looking forward without nostalgia has always been my motto.

What was your most beautiful experience / competition? What was your biggest success?
The most beautiful thing for me was always the last competition, no matter what the result was :-)! In order to keep my physical abilities intact, I have always thought about the next race when I have participated in a race and I have never gone beyond my possibilities. This is a piece of advice I can give to newcomers: "You have to look far away, but always know your own measure".
The last of my competitions was fantastic, what a moment full of intense emotions. That was on 10th of March 2018 at the Double Ultratriathlon in Orlando, USA, on my 70th birthday.
My greatest success is to have participated in so many competitions and to have met so many extraordinary athletes, organizers or teammates.
Were there any negative points in your long career you remember very clearly?
I had several more or less serious accidents (in training and competitions) that could have ended my career, but I was lucky enough to recover well and return to the track even stronger and more motivated! These difficult moments were quickly forgotten.
Which ultra-distance do you prefer? In which ultra-distance you're strongest?
The classic Deca, because it is not only important to be as fast as possible, but above all to be able to manage the long load best. What I really like is the tactics and the long competition, which brings a lot of surprises up to the finish line. In such a competition you really notice the personalities of the individual triathletes, you really get to know yourself and the others.
At my last Deca in Leon in 2017, my 10th classic Deca and my 11th Deca in total, I only had the goals of a 69-year-old at 69 and that was just to finish before the time limit of 14 days. All the nicer was the surprise to finish fourth after eleven days, only four hours and 36 minutes behind the podium. In this format (the classic Deca) I had the best experiences.
Which race location do you have in special memory?
There's so many of them, I can't pick one at a time. Everyone is beautiful and often the organizers are very careful to make the competition perfect for the athletes. Some of them may have stayed in my memory a bit more because of the team members who accompanied me at that moment, including my family, of course, but also good friends. I also kept very good memories of certain competitions where I had to quit due to an accident. The memory of good moments spent with good friends is more important than the ranking at the end.
Have you made friends with other participants or organizers during your active time that still exist today?
Oh, yeah. With team mates I knew on site and some of whom even hosted me, with organizers, ultra athletes and locals ... In several places people gave me the key to their house so that I could live there and some even wanted me to take their key back to France just to make sure I would visit them again! Many still come to me in Colmar and we come to them. All those moments I experienced in and around the competitions brought nothing but happiness into my life. This is the spirit of Ultratriathlon.
What would you do differently today, if you could start again in the late 80's?
Nothing. For me, I've made the most of my life.
Have you never had any health problems e.g. with your knees?
A little with my knees at the beginning of my career until I learned to adjust my bike correctly. Afterwards I treated my minor problems with magnetic field therapy, with a special saddle (Proustsaddle) and with an improved special saddle according to the "Guy Rossi method" ;-)! Everyone who trained with me noticed that my bike doesn't look very aerodynamic, but it was comfortable enough to stay in the saddle for a long time! Thanks to all this, in over 34 years of active triathlons, including 32 years of ultra triathlon, I have never had any health problems that can be traced back to the practice of this sport.
I never wanted the current success at the expense of my health, maybe that's why I've been able to hold on for so many years.
What role does your wife play in your life?
She is very important in all ways. Without the support of my wife and my three children, I could never have kept up in this sport for so many years (34). For all of us, a supportive family behind you is a great help in many aspects.
How have the events, organizers, participants, rules, material etc. changed from the late 80's until today?
In terms of events and equipment, equipment technologies have improved athlete's performance and comfort. The safety of the track and the precision of the timing have had a very positive influence on the quality of the conditions during the competitions.
At the level of the organizers, I have always felt the need to make the most of the resources available at the time. If I had no confidence in the seriousness and abilities of the organizer, I preferred not to take part in the race. Fortunately this was very rare.
Among the participants there were excellent athletes in every season during the 32 years. Even though technology has improved performance, it is not enough to be at the top. Fortunately, you still have to work hard to perform well.
As far as the IUTA's evaluation criteria and rankings are concerned, it is unfortunate that in recent years the best have not been adequately rewarded for their performance.
In 2013 I wanted to show that I could still be number one in the world at the age of 65, with average performances. If I hadn't had a bike accident that prevented me from finishing the last World Cup race in that year, the Deca in Monterey, I could have won the World Cup with the points you got for finishing. The point criteria for each competition should be based on the value of the performance ... and not according to a fixed scale that only takes into account the length of the race.
For years I have been fighting for the insight that some ultra triathletes of the new generation have not received any honors, even though they have achieved outstanding performances. I think that with the new dynamic committee, for the benefit of all, everything will develop in the right direction.
How do you see the future of the ultra triathlon?
The future of ultra-triathlon will depend on how you organize this sport. Organizers and ultra triathletes have to follow the rules of the IUTA. We have to make sure that the evaluation criteria correspond to the true value of the performance of the ultra triathletes. This is the best way to recognize and reward the work of each individual. In this way, the Ultra Triathlon will grow and be strong.
I wish the IUTA all the best. It has been close to my heart since I started it, with Jorge Andonie as its first president. It's hard for me to finally withdraw from the world of Ultratriathlon because I have many friends who still practice this sport. I encourage them and follow them on the Internet if they participate anywhere. I am also asked for advice by beginners in this sport.
In 2018, as a gift from the city of Colmar, an anniversary was organized in my honor (from June 30th to July 1st), open to all who wanted to participate in my last competition kilometers.
This award was given to me for three decades of competitions all over the world, where I kept up the colors of the city of Colmar and contributed to the positive image of Ultratriathlon.
It was a great emotional moment to share with many people, my family, my friends, the mayor of Colmar, the city authorities, the partners who trusted me for decades, and strangers who sometimes came from far away to walk the last few miles with me. I started the Ultratriathlon in 1987 by participating in a 24-hour triathlon (3 x 8h) in Colmar and I finished my career three decades later (2018) with the same 24-hour triathlon. The circle is complete. THANKS, THANKS to all of you.
2019 will be my first year without competition. "C'est la vie" :-)!
The IUTA community bows before one who has significantly shaped the sport of ultra-triathlon. For his extraordinary achievements and numerous records in more than 30 years on the world's race tracks, the IUTA appoints him honorary president. Thank you, Guy Rossi!

Guy's official website: guyrossi.fr