Beat Knechtle is one of two athletes who has already reached the mark of the equivalent of 250 completed long distances just in ultratriathlons alone. We spoke with him how it came to this at all and his further goals.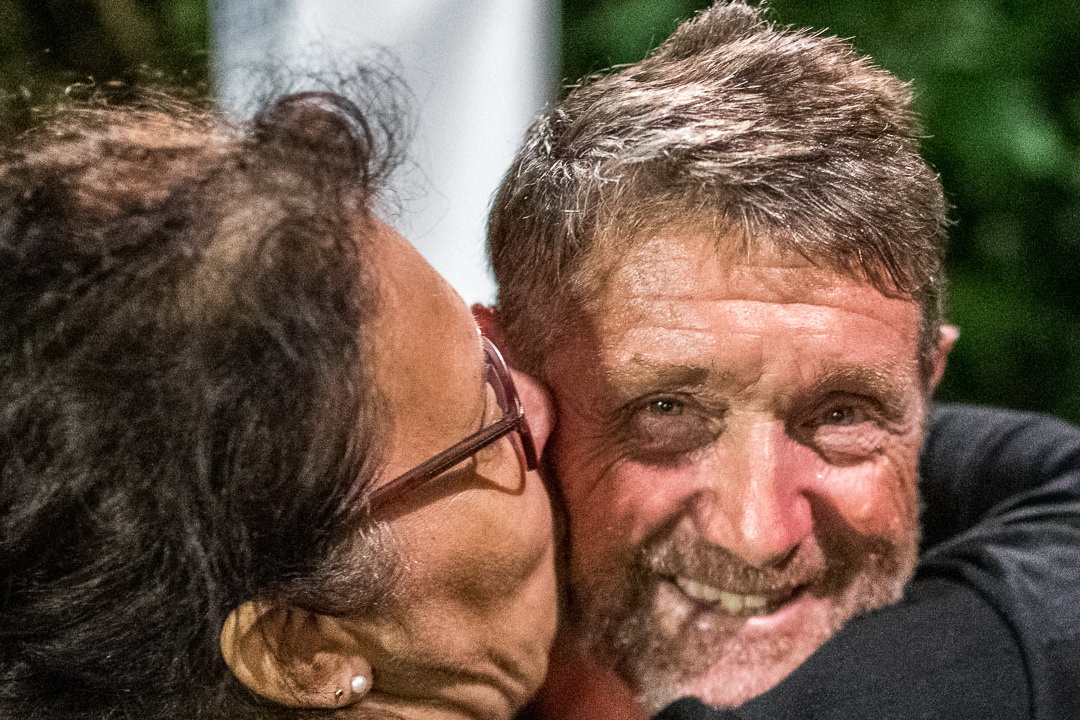 Beat at the finish line of the Deca Day in Buchs/Switzerland 2019
26.12.2021 | Text by Norbert Lüftenegger & Mark Hohe-Dorst | Photo by Katrin Mayer
As you aptly put it on your homepage, you are a doctor and an endurance athlete. What is your specialty in medicine?
During my training I got to know various medical fields such as surgery incl. traumatology, internal medicine incl. cardiology and physical medicine.Then I was at two places where I primarily only worked scientifically in the field of physiology, primarily in the field of lipid metabolism, then followed by work on fluid balance. The synthesis then gave a primary care physician who now practices general medicine in a large group practice with the care of people of different ages and with a wide variety of ailments.
How long have you been doing sports?
As a small primary school student I taught myself to swim when we went to the sea with my parents for the first time. A little later, an indoor swimming pool was built in our town right next to my parents' house, and my grandmother always paid for my annual subscription to the indoor and outdoor pools at Christmas. So over the years I developed into a pretty good swimmer, but never quite made it to the top. At the age of 16 I bought a racing bike and even then I did big bike tours up to 300 km. During all those years I never really liked running.
During my studies and military service I never had much opportunity for regular sports. It was only when I became a resident doctor that I left my car with my wife and children and rode my bicycle from home to the hospital that this changed. For many years I cycled 80-100 km a day. In a hospital I was made aware of triathlon by a sports doctor, because I was a good swimmer and cycled a lot. I started with sprint triathlons, then switched to the Olympic distance and even became Swiss champion among doctors and vice world champion among doctors with the Swiss team.
At some point I considered the hustle and bustle on the short distance no longer so funny and switched to the long distance, but somehow there was also a hustle and bustle. Especially not funny I found the brawl in the water.
How and when did you get into ultra triathlon?
Once the magazine "Triathlet" came into my hands and there I saw the announcement for the "Defi Mondial de l'Endurance" in Grenoble over 11.4 km swimming, 540 km cycling and 126.6 km running. At that time there was no internet and no cell phone, you had to register in writing. I received a nice letter saying that my long distance triathlons were certainly fast (always around 10 hours) but that I had no ultra experience. I would have to do much longer races to qualify. So I did the Lake Geneva Crossing, a 24-hour bike race, and the 100-km run in Biel to get a starting spot. One year later I was allowed to start with one of the last bibs (= reserved for beginners) in 1997.
Surprisingly I achieved a world best time in the swim and even made it on TV. In the end I finished in the top ten and was the first Swiss to manage a "Triple" under 40 hours.Although I had to sacrifice all my toenails because of the run in the rain, it was clear to me that rushing in such competitions was not the best strategy.
The competition in Grenoble was a family trip for us in the sense of vacation. We set up a tent, installed the grill and had a fine meal. In the following years I did many such "Triples" because I liked the distances very much - despite the long running distance.The competition in Grenoble was a family trip for us in the sense of vacation. The competition in Grenoble was a family trip for us in the sense of vacation. We set up a tent, installed the grill and had a fine meal. In the following years I did many such triples because I liked the distances very much - despite the long running distance. In Grenoble I also met Guy Rossi who was impressed by my fighting spirit. Because on the run course my wife went down on the bike (at that time you were still allowed to accompany) and dropped out.A French team, whose athlete had dropped out, then adopted me and brought me to the finish line in the biggest rain. This race was a great experience.
What has been your greatest sporting success to date and which sporting experience has been the most emotionally significant for you?
I don't attach much importance to so-called successes. What counts for me and my wife is sunshine, mild weather, good food and beautiful surroundings. If there are also nice starters with good sayings, the ambience is perfect for me. I like to start in the USA in Lake Anna State Park because of the beautiful scenery. Also in Florida, Oregon and Leon in Mexico the ambience is very nice. I have also encountered wonderful competitions in Hungary and Slovenia, actually always when we swam in a lake. I don't really care about the ranking, because it depends on the participants.
When I was young, I could often predict my finishing time to within 15 minutes. It was always the most important thing for me that my calculations were as accurate as possible. Today, at almost 60 years of age, what counts for me is that I get through these competitions as quickly as possible and can continue to eat without rushing. I have showcases in which I collect my trophies, but we also collect souvenirs from the places. The memory of good times, good weather, good food and nice people is much more important than a big trophy.
As a doctor, you also have a detailed insight into the human body. As an athlete, you can draw on decades of experience. What are the biggest and most common mistakes athletes make when it comes to health?
From my point of view, the only problem with such long things is that you can start too fast in competition. Since I started these competitions, I'm always faster in training than in competition, not the other way around. I mean, when the batteries are empty you have a problem. What is also unfavorable is if you drink too much. This can lead to hyponatremia and edema. I did a lot of field studies on this and learned that the pace has to be low enough for you to eat and digest, and you can't drink too much. You should also try and test a lot of equipment for the very long stuff. For the competition then use only the equipment that is 100% suitable.
The Corona virus and geopolitical restrictions have severely limited competitive sports worldwide this year. How do you see the current situation, also as a doctor, and how do you keep fit during the non-competitive time?
Nothing changed for me in Switzerland, except when the pools were closed. However, I was able to train quite well in the summer in the outdoor pool. Otherwise I trained as usual, only in 2020 there was no triathlon. Instead, I did a 48-hours run in France in August and even achieved third place.
In the IUTA Ultra Triathlon Hall of Fame of most finished long distances, you are close to taking the top spot. Is it a goal for you to finish the most long distances of all ultra triathletes? What are your plans for the future?
My plan is to do ultra competitions as long as possible. Of course, I notice the age and the speed is clearly decreasing, so I will do the next years until about 60 as many competitions as possible, from about 60 then rather only selectively.
Which distance and which format (continuous vs. one-per-day) do you prefer?
My favorite distance used to be the triple and my favorite race was Virginia in the USA. After ten starts and ten podiums I thought it was enough. I think I have also finished the most triple ultratriathlons of all triathletes. Since a long time I prefer the per day variant. Jorge Luis Andonie first introduced this format in 2006, at my suggestion, in Monterrey, Mexico. For me, the advantage of this format is the fact that I come from the rather fast tracks and I certainly get eight hours of sleep each night - more than in a work week, so it's like being on vacation again.
Which distance / format is the most difficult for you?
A deca in the continuous version is not fun at all, swimming, cycling and running for so long does not correspond to my nature at all. A quintuple in the non-stop version is for me the highest of feelings in this version, longer never again.
Your wife Patrizia accompanies you at all your races as a coach. She experiences ultra triathlon with the same enthusiasm as you. Could you imagine doing an ultra triathlon without your wife as a support person? Do you know when you did your last ultra triathlon without her, if there was one?
I know my wife for 37 years, she came only a short time not with us, when she had a "fat belly". As soon as our daughter was born she was there again, for example three months after the birth we were with our daughter again in Mexico at the Deca. The race there was also a family trip. I was often able to push my daughter around in the stroller on the run course. It was almost like a paternity leave. My wife knows all my equipment, she cooks for me, can do bike repairs, and since the first start in 1997, we've viewed the races primarily as vacation getaways rather than competitions.
Do you have any tips for people who would like to try an ultra triathlon?
For someone who wants to do such a competition, it would be best to first participate as a coach/support.
Are there any specific ideas that you would like to change in the ultra triathlon sport?
I think currently there are still enough events. There are organizers who don't care much about the quality of safety. The safety on the bike course must be improved at certain organizers, I have seen some very serious accidents.
How do you see your life in 15 years? Do you have any concrete ideas for your next steps in life?
Professionally, I will work as long as I can, so I will certainly not retire at the age of 65. From a sporting point of view, I will continue to compete in the long triathlons until I can no longer finish within the time limit. In addition to the triathlons, I also do hourly runs, which has the advantage that there is no time limit. I have done everything from 6 hours to 6 days at least once, but a better 72-hour run and once a 10-day run are still on the list.