Interview with Myrna Saliba:"Age is just a number."
Myrna Saliba (62), credits being diagnosed with "osteoporosis" for her sports career. From huffing and puffing running 3 minutes in a row at 8km/h in 2000, the multinational athlete went on to run over 20+ marathons, discovered ironman, and set her eyes on even bigger goals: ultratriathlon. In 2019, Myrna will attempt her longest race ever: The Quintuple in Switzerland.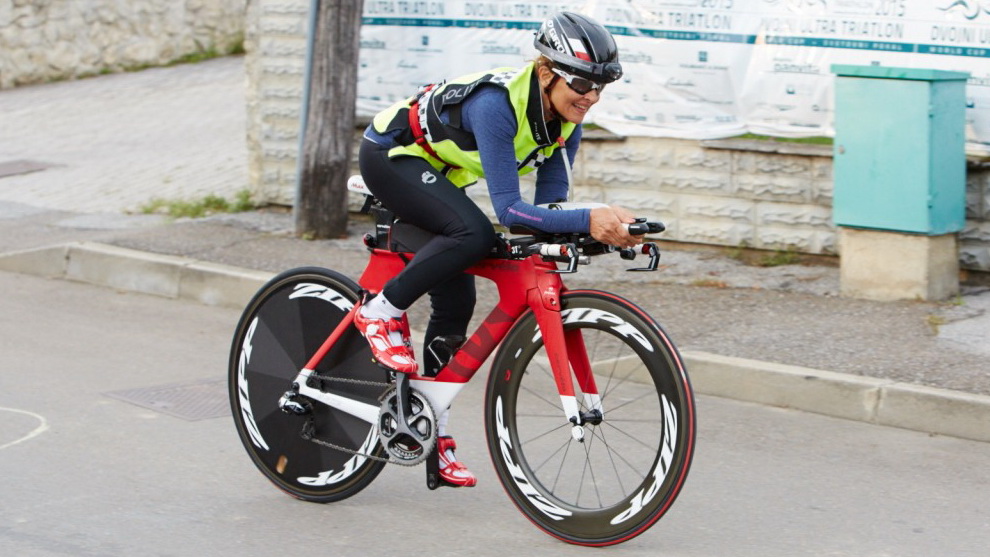 12.05.2019 | Text by Katrin Meier | Photo by Myrna Saliba
Myrna, at over 60, you are one of the oldest participants and the only 60+ race finisher in the IUTA World Cup 2018. That deserves respect! How do people react when you tell them about ultratriathlon?
I believe there are three of us female above age 60 on the Ultra circuit at the moment. I sincerely wish to see more, because age is just a number! In general, I don't talk much about my ultra plans, but when people find out, some get inspired, others think I am weird and crazy. Both reactions leave me indifferent, people's opinion doesn't really matter, I do this for me, for my own pleasure and satisfaction.
Your triathlon career started relatively late. In 2007 you didn't even know how to swim – now you are an ultra triathlete. Can you briefly tell us something about your sport career?
In my childhood, I was a tomboy; later in life I enjoyed tennis, skiing and horseback riding. In 2000, I became a serious athlete by coincidence while taking care of my health after being diagnosed with osteoporosis. First I got hooked on running, then in 2007 I discovered Ironman watching a documentary about Ironman Western Australia (IMWA), and decided to become an Ironman, even though I did not know how to swim at the time. I learned to swim, I had to learn! My first triathlon was in 2009 and it was none other than IMWA. The beginning of ultratriathlon was in the fall of 2014 when I stumbled on the IUTA website as I was searching for a big goal to motivate me after nearly 2 years of being off training.
Your triathlon career began directly with an Ironman race – didn't this huge goal scare you?
No. Some find the leap from zero to Ironman extreme but in perspective, I was achieving a goal of being "Ironman" not that of being a triathlete. My training volume was in line with my race volume, and I did put in the hours to achieve my goal. Besides, athletes who participated in the first Ironman editions did not do short triathlon distances to prepare. They just trained and successfully finished an Ironman.
What has been your greatest successes so far?
Every race I finish is an achievement in itself – if you take into consideration my age, where I started from, my multiple health issues, and all the obstacles I face. I take nothing for granted, each training I complete is a gift, a blessing and one more step on my road to wellness. For a highlight of some of my running, triathlon and ultratriathlon performances, you can visit (hopefully soon) the "About Me" page on my website myrnasaliba.com.
You are a wellness and fitness consultant. What's the most important message you teach your clients?
I emphasize the need to learn about oneself, and being attuned with oneself. It's good to spend time learning about the world around us, but when our own world crumbles, nothing can help us but knowing who we are and what inner tools we can capitalize on to get back on our feet and lead a winning fight.
Do you have a personal philosophy?
My philosophy is a simple belief, well tested by both myself and my husband who just finished his first full Ironman at age 73 in 2019: "Dream, believe, achieve ... age is just a number".
You have multiple nationalities, an international family, a German, a Lebanese and soon to be a French sons-in-laws, your daughters live in different parts of the world. How does this affect your life?
For the past 4 years, my husband and I have been living out of a suitcase traveling, training, racing and sating our wanderlust. The cultural diversity in my family is healthy and we are blessed with good family rapport. When you deal with others on a human level, everything is easy. Regardless of our personal traits, we are all humans with a soul living in one world and life is good whether in Alaska or Timbuktu it is always 'planet Earth home'.
What is your motivation to participate in ultratriathlon competitions?
I am a driven goal-oriented person, I like to challenge myself, set goals and achieve them not just in sport. Before sport, there was the challenge of education as I went back to university full time while my daughters were in their teens. I guess for me, it all boils down to continuously testing my limits and raising the bar higher each time, waking up every morning and seeing a positive difference in me! It just excites me, it energizes me and keeps me young mentally and physically.
How did the idea to race a Quintuple develop?
My plan was to do a triple continuous in Bad Blumau (Austria) this year, but there wasn't enough time to prepare post-surgery end of January 2019. Also doing the same repetitive motion with my arm so soon and for long hours wasn't ideal. The alternative was a quintuple in a non-continuous format, as it is much more manageable at this stage: more time to train, short daily doses of swim/ bike/run and with breaks of sleep, allowing for a healthy recovery and preventing repetitive stress injury.
How are you coaching yourself?
Recently, I decided to hire professional help. My daughter is getting married 2 weeks before the race and as you know a mother of the bride has a lot on her plate. Having someone in charge of my plan relieves a lot of stress, gives me time to focus on other matters and keeps me anchored and focused on my goal at all times in spite of distractions and travels. I am coached by Chuck Kemeny, the 2014 Ultraman world record holder and coach of the quintuple world record holder in 2015.
How long have you been working together and what tips Chuck gives you?
We are in touch since mid march 2019. The first 2 weeks Chuck was monitoring what I was doing on my own to gage the potential of success and whether he could help me. I was thrilled when he took me under his wing 5 weeks ago, it reinforced my belief in myself. Chuck's coaching is similar to how I coach my husband, a hands on, closely monitored approach with daily feedback to ensure a forward progress. I am sure I'll receive bountiful race related tips as we move forward.
Isn't it difficult to be coached when you're yourself a certified coach, especially that you have proven the effectiveness of your training methods by getting your husband to race at 4 consecutive IM70.3 Worlds, including this year in Nice (France)?
It depends, if the athlete cannot let go and refuses to take off his/her coaching hat, the experience could turn into a nightmare. I have willingly passed on the reins to Chuck and I am sticking with that. Him and I are on the same page, and I fully trust him.
When you think about the Quintuple, what do you look forward to the most, and what do you respect the most?
I look forward to the Finish Line. That's my focus, that's my goal. What I respect most is the human mind and I bow to the human grit. It is humbling all the things we humans can do.
Have you set yourself a personal goal?
Sure, everyone has a goal. My #1 goal is to finish healthy, clocking the time my training efforts deserve, the rest like podium, record in my age group, is icing on the cake all of which quite plausible though not the essence of why I will be racing.
Do you already have plans for after the Quintuple? Do you dream of a Deca or Double Deca ultratriathlon?
Let's see how the quintuple fairs, and how my knee holds up on the run. I certainly want to do a triple continuous and an Ultraman. And yes I see myself doing a deca non continuous, if my body allows it. But now I'd rather live in the moment, one step at a time, one goal at a time.