Results of WC points voting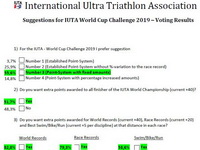 We have collected your votes. Many thanks to those who voted. In the picture or as PDF-download below you'll find the official results for the World Cup Points System 2019.
Option 3 (point system with fixed amounts) was voted for in the greatest numbers. Since the response for question 2 was almost fifty to fifty, we tried to accommodate for the mixed feelings by still awarding extra points for the world championship but lowered the points for participation in a world championship from +40 to +20.
At the end of month we will present the official IUTA rules 2019 on our website that will contain a section with the points clearly explained. At the end of the 2019 season, we will revisit asking the athletes whether the points system should continue as is. We continue to welcome ideas so please feel free to share with us via email. And speaking of...